The Building
The project is being supported by the Département de la sécurité, de la population et de la santé (DSPS) and the building will be constructed with funding from the Caisse de prévoyance de l'Etat de Genève (CPEG) which owns the land. In 2018, the CPEG decided to invest in a large-scale project in order to best meet the increasing outpatient surgery needs of patients in Geneva.
One site with several projects
The site will cover 9,000 m2 of which 4,000 m2 will be dedicated to the outpatient surgery centre and to consultation rooms.(see figure below).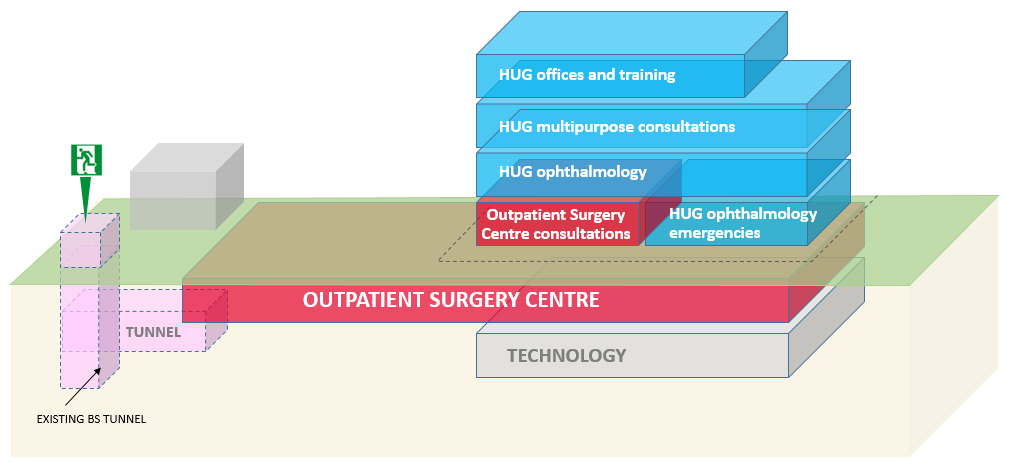 The remaining area will be used by the HUG as agreed in the partnership for :
ophthalmology consultations and emergencies,
multipurpose consultations,
offices
History of the site
Beau-Sejour is undeniably a memorable location and a genuine archaeological site. Located amongst luxuriant vegetation, the district lends itself to the development of health clinics. Initially a private property, in the 20th century the Beau-Séjour estate became a public hospital alongside the Clinique Beaulieu, a private establishment.
Considered in the 18th century to be one of the most beautiful estates in the city, the Beau-Séjour estate continues to adapt along with its owners. In 1831 it was purchased by the educationalist Henri Venel who turned it into a boarding school. In 1873, David Moriaud built the Beau-Séjour baths complex on the banks of the Arve. The estate was then renamed Champel-les-Bains and became a spa treatment location and a resort.
In 1943, the former Beau-Séjour estate with its baths was sold to the State and was incorporated into the cantonal hospital.  In the early 1960s, the demand for medical consultations was increasing and a large-scale project was developed in collaboration with the Centre international d'études techniques (CIET) in Paris. Unfortunately, the financial contributions required for the project were considered to be too high and it was also downgraded to the 3rd zone. It was finally decided to extend the existing building with modern architecture. It can be compared to the Uni Dufour building by its rough stripped-back exterior, inspired directly by Le Corbusier.
Today, the history of the building continues as does the development of the establishment which finally became a reality thanks to a public-private partnership. The pooled resources and know-how of the HUG and Hirslanden will enable the completion of this ambitious project encompassing 4,000 m2, 9,000 surgical procedures and 50 employees.